30° Multi-Unit Angled Abutments  - CS (Conical Standard Connection)
 Compatible with MultiNeO CS
To be used :
 For multiple unit restoration
 For aligning tilted implants
 For fixed screw-retained restorations
Instructions
Use 1.25 mm driver Use 30Ncm;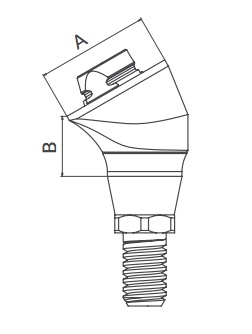 A= diamètre
B= hauteur 
A one-piece design makes the restoration procedure even simpler and enables dental professionals to use the system for various clinical procedures: in the maxilla and mandible areas, single tooth, partial or full edentulous jaw.
A wide prosthetic platform enables the use of thicker porcelain crowns at the final restoration stage for stronger and higher esthetic results.
The AlphaUniverse Multi Unit abutment system is intended for use in cases where implant angulation correction is required.
A unique handle designed for placing the abutment on top of the implant.
Maintains the health of the soft tissue.
The connecting screw is located inside the abutment for easy connection with the implant. 
Download the AlphaUniverse Multi Unit Brochure
VIDEO Multi Unit Abutment System
Read more
Show less