AlphaLoc Attachments - IH
AlphaLoc Overdenture attachments
The AlphaLoc overdenture-implant attachment system is designed for use with full or partial dentures by endosseous implants in mandible or maxilla.
AlphaLoc is an efficient, reliable, cost-effective and long lasting solution.
Material : Titanium alloy with TiN coating

First in Dimensions. First in Results.
AlphaLoc has the lowest vertical profile in the market, 2.1mm, and the smallest width of 4.5mm compared to the existing implant overdenture attachments.
• Ideal for use in limited interocclusal spaces
• Provides a wide range of clinical solutions
• The system's compact design benefits both the dentist and technician with incomparable planning and execution freedom.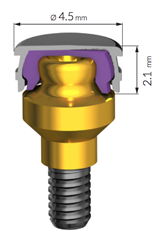 Key benefits:
• Minimizes oclusal and lateral forces on the implant
• Enhances overdenture acrylic thickness and strength
• Easier for patient handling
• Superior esthetic result
• Versatility - a variety of options for retention and angulation provides a wide range of clinical solutions
• Wide range of AlphaLoc abutments with different cuff heights for different tissue depths
• Composed of Alpha-Bio Tec's Titanium alloy, especially coated with TiN to minimize friction and maximize system's life length 
Sold separately from the AlphaLoc Kit
You can buy each attachment with the corresponding kit that includes : 1 Attachment of the given height, 1 Stainless Steel Metal Housing, 4 Retentive Caps, 1 Protective Disc, 1 Laboratory Cap. Please go to the kit page for purchaising.
  See the AlphaLoc brochure
Read more
Show less
Data sheet
Connection type

IH-Internal Hex Connection
Material

TiN coated titanium alloy
Customers who bought this product also bought:
AlphaLoc Male Processing Package